CEUCA represents contractors that engage in environmental or utility contracting and construction and associates engaged in the manufacture of or sale of products or services by persons engaged in environmental or utility contracting and construction. [more]
Upcoming Events:
CEUCA Fall Annual Meeting
Thursday, October 6, 2016 | 4:30 pm
Building Your BEST Workforce II - Let's Get Social: The Workplace, a national leader in workforce development. Join us as we continue the discussion from last year on recruiting and hiring the best for your firm along with tips & tools for the best use of social media. Registration and Sponsorship details
Event Highlights:
Once again the CRBA, CEUCA, CRMCA joined forces and in 2016 made a contribution to support the National Coast Guard Museum that is being built in New London Connecticut. Joint Forces 4th Annual Luncheon was Thursday, April 14, 2016 and featured guest speaker, CAPT Wes Pulver, USCG (Ret) representing the National Coast Guard Museum.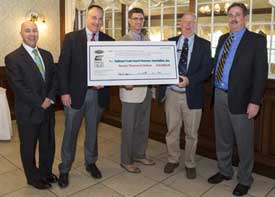 President
Linwood "Woody" Mather, Mather Corporation
Vice President
David Brennan, John J. Brennan Construction Co., Inc.
Treasurer
A. Edward Wright, Fay & Wright Excavating, Inc.
Secretary
Timothy J. Arborio, Charter Oak Utility Constructors, Inc.
Board Members
Daniel Radacsi, C.H. Nickerson & Company, Inc.
Brian J. Carey, Carlin Contracting Co., Inc.
Christine McAllen, McAllen Construction Inc.
John Olender, Sr., John Olender Corporation
Marshall Renkowsky, Blakeslee Arpaia Chapman, Inc.
Michael Dahlheimer, Bond Brothers
Associate Member
Daniel F. Lesnieski, Jr., Connecticut Water Company
Representative of
CBYD Board of Directors

Bret Factora, Eversource

Executive Director
Don Shubert, CCIA
---
Laws, Regulations and Legislation
Links to Industry Resources
Construction
Safety and Damage Prevention
Industry Organizations
Federal Government
State Government
Municipal
Research and Education
Products and Services
Planet Underground
A resource for products and services related to underground damage prevention.
Publications
Miscellaneous
Contact info:
ccia-info@ctconstruction.org | 860.529.6855
912 Silas Deane Highway | Wethersfield, CT 06109