CRBA members include contractors, subcontractors, material suppliers, consulting engineers, and professional service providers operating in the heavy and highway construction industries.
CRBA is an advocate for its members' interests at the federal and state levels.

It represents its members' interests on national issues at meetings with Connecticut's Congressional Delegation, and on local issues with the State Legislature and Governor's office.

It works on contract administration issues with the United States Department of Transportation as the Connecticut Chapter of the American Road and Transportation Builders Association, the national trade association for the transportation construction industry.

Also, it works directly with the Connecticut Department of Transportation on all areas of interest to its members.
Upcoming Event:
The 2016 Arthur Gruhn Excellence In Construction Award winners!
Challenging Project – Arborio Corporation - Pattaconk Brook, bridge replacement, Main Street, Chester
Innovative Project – Manafort Brothers Corporation - Route 8 NB and SB, overpasses, Lindley Street and Capital Avenue, Bridgeport
Large Project – Tilcon Connecticut Inc. - Route 2, rubblization, combined projects Glastonbury - Marlborough
Small Project – Tilcon Connecticut Inc. - Route 44, resurfacing, Canton/Simsbury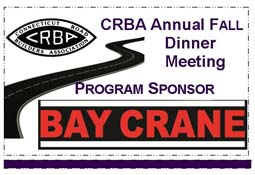 The Connecticut Road Builders Association Annual Fall Dinner & Meeting
featuring The Arthur Gruhn Excellence in Construction Awards!
Along with a Notable surprise guest speaker, author and entertainer on The Power of Thoughtful Misbehavior
November 2, 2016 - Photo Gallery, by John Marinelli Photography

Honoring an Innovator – CONNstruction Article Summer 2016
In April of 2016,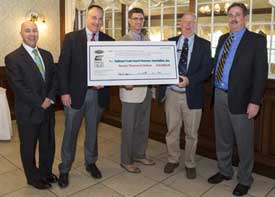 the CRBA, CEUCA, CRMCA joined forces and made a contribution to support the National Coast Guard Museum that is being built in New London Connecticut. Joint Forces 4th Annual Luncheon featured guest speaker, CAPT Wes Pulver, USCG (Ret) representing the National Coast Guard Museum.
From ARTBA!

A Mobile App—"Transportation Construction Advocate"™—rolled-out to help the public and private sectors of the U.S. transportation construction industry and other interested stakeholders communicate easily with members of Congress about the importance of infrastructure investment to the U.S. economy. It puts all the information you need for your upcoming legislative meetings at your fingertips.
How To Download the App to an Android or Apple device.
SCHOLARSHIP
The American Road & Transportation Builders Association's Transportation Development Foundation (ARTBA-TDF) recently announced that it is accepting applications for the "Lanford Family Highway Worker Memorial Scholarship Program". The scholarship provides financial assistance to help the children of highway workers killed or permanently disabled in the line of duty pursue post-high school education. [details]
CRBA OFFICERS
President
Gary Wall, Tilcon Connecticut Inc.
1st Vice President
David Chapman, Blakeslee Arpaia Chapman, Inc.
2nd Vice President
Sandra David, ADF Industries, Inc.
Treasurer
Peter Arborio, Arborio Corporation
Executive Secretary
Donald Shubert
Links:
Contact the CRBA
E-Mail
Phone: 860-529-6855 · Fax: 860- 563-0616
912 Silas Deane Highway · Wethersfield, CT 06109