CRBA members include contractors, subcontractors, material suppliers, consulting engineers, and professional service providers operating in the heavy and highway construction industries.
CRBA is an advocate for its members' interests at the federal and state levels.
It represents member interests on national issues at meetings with Connecticut's Congressional Delegation and on local issues with the State Legislature and Governor's office.
It works on contract administration issues with the United States Department of Transportation as the Connecticut Chapter of the American Road and Transportation Builders Association, the national trade association for the transportation construction industry.
Also, it works directly with the Connecticut Department of Transportation on all areas of interest to its members.
2018 Calendar of Events
CONGRATULATIONS TO John A. Brunalli and the 2018 Arthur Gruhn Excellence in Construction award winners who were honored on Wednesday, November 7, at the CRBA 85th Anniversary Dinner before approximately 300 members and guests. The winners were:
Innovative Construction Methods Project: O&G Industries, Inc. for Replacement of Bridge No. 04326, Route 175, Newington, Connecticut;
Challenging Project: Yonkers Contracting Company, Inc. for Improvements to I-95 Northbound, Atlantic Street and South State Street, Phase 1 MNRR Atlantic Street Bridge, Stamford, Connecticut;
Large Project: The Middlesex Corporation for rehabilitation of Bridge No. 00163A, I-95 over West River and SR745, West Haven and New Haven, Connecticut;
Small Project: Tilcon Connecticut Inc. - Pavement Rehabilitation, Rt. 72 Westbound access from Rt. 9 Northbound, Exit 28 to Plainville – Exit 2, Plainville, Connecticut; and
Small Project: Waters Construction Company, Inc. - Replacement of Metal Bin Retaining Walls. Rt. 8 Exit 36 SB at Colonial Ave. & Exit 37 NB, Waterbury and Watertown, Connecticut.
State Representative, Antonio Guerrera, was presented with a special Transportation Champion Award for many years of steadfast leadership.
For a limited time, Photos from the event are available at this link; and Special thanks to all sponsors and advertisers, listed at this link.
CRBA, CEUCA, CRMCA: 6th Annual Construction Industry - Joint Forces Luncheon, Thursday, May 3, 2018 | 11:30 am, at the Aqua Turf Club, Wagon Room, Plantsville.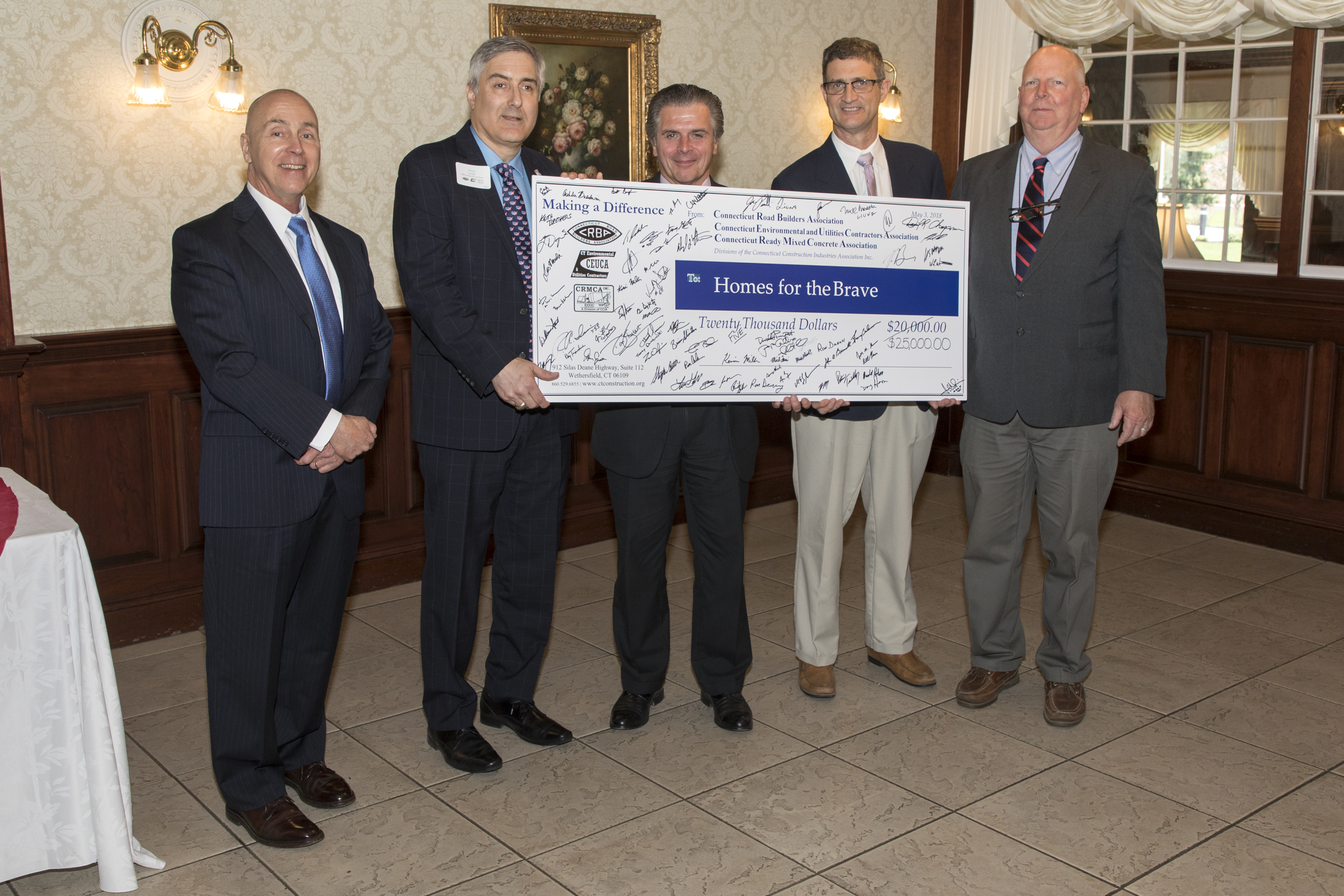 Many thanks to our members and sponsors for attending! A contribution of $26,000 was given to the Homes of the Brave in Bridgeport. Thank you for contributing to provide housing and services necessary to help homeless veterans return to a productive and meaningful life. The Joint Forces luncheon was established to make a difference in the lives of veterans in Connecticut.
Photos from John Marinelli are available here. Thank you, together we are making a difference!
Photo: Don Shubert, Vince Santilli (Homes for the Brave), Timothy Arborio, David Chapman, Kevin Miller
For additional events, please visit the CCIA Calendar of Events for up to date information.
CRBA OFFICERS
President - David Chapman, Blakeslee Arpaia Chapman, Inc.
1st Vice President - Jeff Lower, RED Technologies, LLC
2nd Vice President - John M. Brunalli, The Brunalli Construction Company
Treasurer - Peter Arborio, Arborio Corporation
Executive Secretary - Donald Shubert
From ARTBA
A Mobile App—"Transportation Construction Advocate"™—rolled-out to help the public and private sectors of the U.S. transportation construction industry and other interested stakeholders communicate easily with members of Congress about the importance of infrastructure investment to the U.S. economy. It puts all the information you need for your upcoming legislative meetings at your fingertips.
How To Download the App to an Android or Apple device.
SCHOLARSHIP - The American Road & Transportation Builders Association's Transportation Development Foundation (ARTBA-TDF) accepts applications for the "Lanford Family Highway Worker Memorial Scholarship Program". The scholarship provides financial assistance to help the children of highway workers killed or permanently disabled in the line of duty pursue post-high school education. [details]. Contact: ARTBA's Eileen Houlihan at ehoulihan@artba.org or 202.289.4434.
Links:
Contact the CRBA
E-Mail
Phone: 860-529-6855 · Fax: 860- 563-0616
912 Silas Deane Highway · Wethersfield, CT 06109