The
mission of CRMCA
is to promote the use of ready mixed concrete and innovative construction products and technologies.
CRMCA events provide both social and educational opportunities for members to discuss and learn about the latest trends and technology in the ready mixed concrete industry. CRMCA also offers a concrete inspection certification program to ensure quality control for concrete products and applications. CRMCA works through the National Ready Mixed Concrete Association on federal and local industry matters.
CRMCA's Concrete Promotion Council is the most active committee in the division, hosting monthly meetings and a variety of educational and concrete promotional programs and events throughout the year.
Upcoming Events:
Monday, September 25, 2017
Diggers Mixers Fixers Annual Golf Outing | Jim Langlois Memorial
Southington Country Club
Registration and Sponsorship flier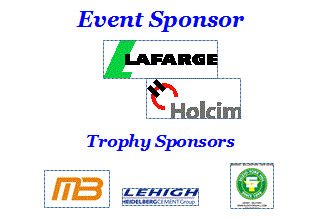 Training Courses:
2017 ACI Certification: Schedule

The March ACI Class is FULL. Next Available class is in May

ACI Grade I Field Technician: Application
ACI - Flatwork Finishers: Application
Past Events:
CRBA, CEUCA, CRMCA | Joint Forces Annual Luncheon
Helping Make a Difference!
The 5th Annual Joint Forces Luncheon which was held, April 27, 2017, at the Aqua Turf. A contribution of $25,000 was made to the Entrepreneurship Bootcamp for Veterans with Disabilities (EBV), which enables disabled veterans the opportunity for economic improvement through the EBV experience.
Photo Gallery by John Marinelli Photography
Monday, March 20, 2017 | 10:00 am - 12:00 noon | Central Connecticut State University [CCSU], Memorial Hall
Performance Specs by Colin Lobo, Ph. D., P.E., NRMCA Senior Vice President of Engineering
CCPC Organizational Meeting was held Wed., Jan. 18, 2017 | 9:30am
CCPC Annual Summer Outing was Thursday, August 11, 2016 at the Odetah Camping Resort, and featured the Rolling Tomato Pizza Truck, Mini Golf Tournament & Beer and so much more!
Diggers Mixers Fixers - Jim Langlois Memorial - Golf Outing
The 2016 Diggers Mixers Fixers Jim Langlois Memorial Golf outing took place on Monday, September 26, 2016. A picture perfect golf day with a great turnout of 93 registered golfers. The first annual Jim Langlois Memorial trophy was presented to the day's best – the winning foursome – from CT Paving, Tom Avery, Bill Barton, Bob Dobmeier, and Todd Doten with a super close second place team from the L. Suzio York Hill Cos., Ric Suzio, Rich Blake, Josh Olsen and Bill Bridgeman. The generous support of sponsorships was a fitting tribute to our colleague and friend, the late Jim Langlois. Thank you Event Sponsors: H.O. Penn Machinery, Lafarge Holcim, Manafort Brothers Incorporated, The L. Suzio York Hill Companies (complete sponsor listing – here -).
Once again the CRBA, CEUCA, CRMCA joined forces
and in 2016 made a contribution
to support the National Coast Guard Museum
that is being built in New London Connecticut.
Joint Forces 4th Annual Luncheon
was Thursday, April 14, 2016
and featured guest speaker,
CAPT Wes Pulver, USCG (Ret)
representing the
National Coast Guard Museum
.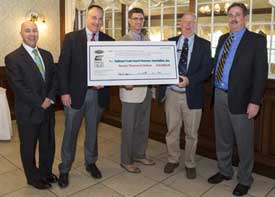 Links of Interest:
CRMCA Officers:
President
Kevin Miller, Tilcon Connecticut Inc.
Vice President
T.J. Oneglia, O&G Industries, Inc.
Secretary
Len Suzio, The L. Suzio Concrete Company, Inc.
Treasurer
Don Penepent, Tilcon Connecticut Inc.
CRMCA Directors:
Sue Duffy, O&G Industries, Inc.
Gregg Lanouette, A.H. Harris & Sons, Inc.
Rich Sullivan, Lehigh Cement Co.
Seymour Adelman, Adelman Sand & Gravel, Inc.
Michael Tarsi, Manafort Brothers, Inc.
Darryl Neopalitano, Lafarge Holcim
Ric Suzio, The L. Suzio Concrete Company, Inc.
Lauren Forgione, The F&F Concrete Company
Contact the CRMCA
E-Mail
Phone: 860-529-6855 · Fax: 860- 563-0616
912 Silas Deane Highway · Wethersfield, CT 06109