MEMBER LOGIN


Connecticut Ready Mixed Concrete Association
The mission of CRMCA is to promote the use of ready mixed concrete and innovative construction products and technologies.
CRMCA events provide both social and educational opportunities for members to discuss and learn about the latest trends and technology in the ready mixed concrete industry.
CRMCA also offers a concrete inspection certification program to ensure quality control for concrete products and applications.
CRMCA works through the National Ready Mixed Concrete Association on federal and local industry matters.
CRMCA's Concrete Promotion Council is the most active committee in the division, hosting monthly meetings and a variety of educational and concrete promotional programs and events throughout the year.
* * * * * * * * * *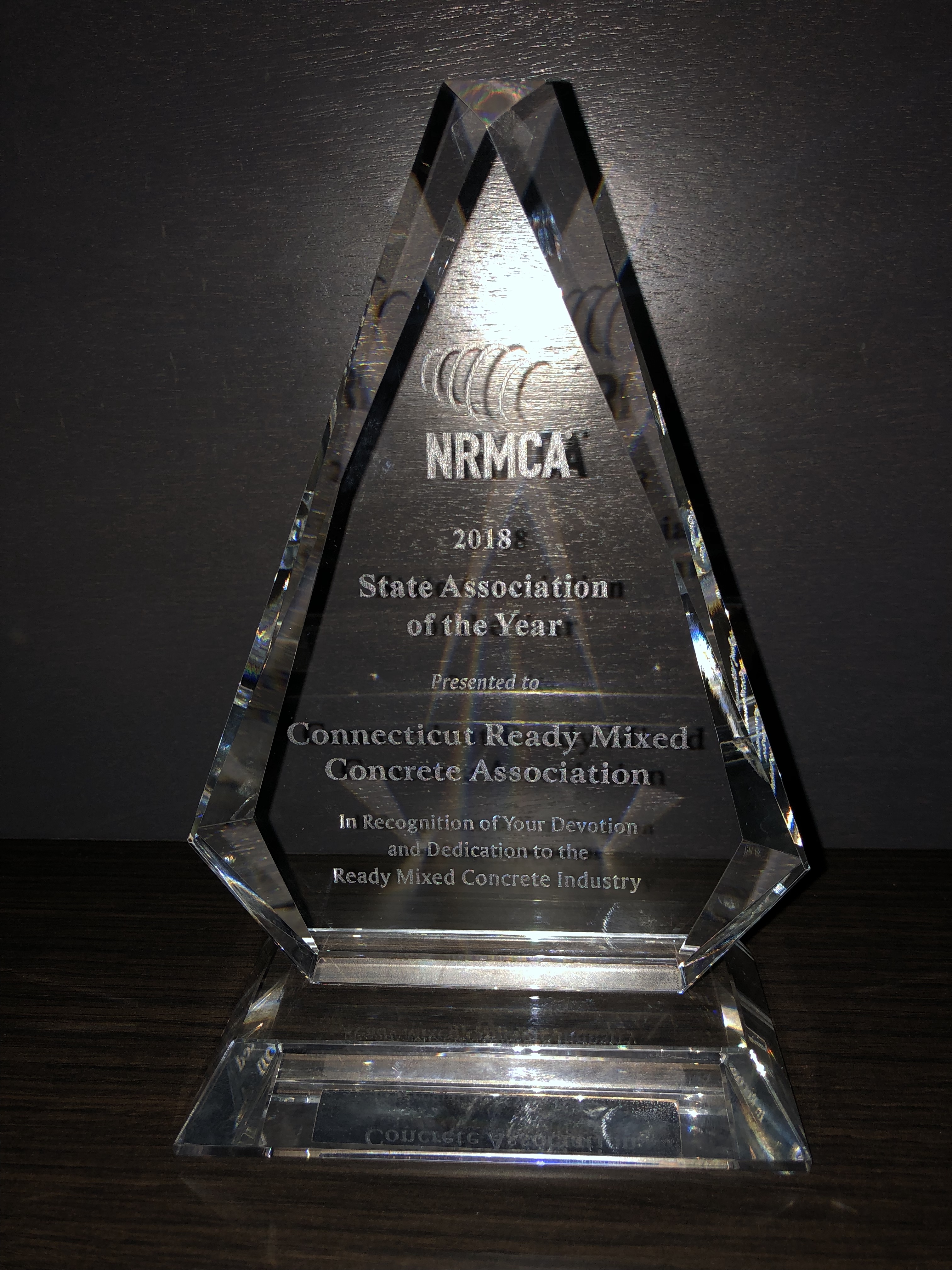 Congratulations to CRMCA for receiving the 2018 State Affiliate of the Year award by the National Ready Mixed Concrete Association (NRMCA) on Mar. 6, 2019, at the annual NRMCA convention held at the Saddlebrook Resort, Tampa. FL.
The State Affiliate Award recognizes the state association that works to promote the use of ready mixed concrete and the national Build with Strength awareness campaign. Accepting the award for the CRMCA were Ric Suzio, CRMCA Board member and President of L. Suzio Concrete Company, Meriden CT and Dominic DiCenzo, Executive Director of the Connecticut Concrete Promotion Council (CCPC).
Upcoming Events:
October 2019
5-7 NRMCA ConcreteWorks, Gaylord Palms Resort, Kissimmee, Florida
20-24 ACI Convention, Cincinnati, Ohio

November 2019
6-9: The NRMCA has scheduled the one and only regional ConcreteWorks for the New England area. at MGM Springfield, Massachusetts.
11-13 ICRI Fall Convention, Doubletree Hilton, Philadelphia, Pennsylvania
13 CCPC Membership meeting, CCIA Headquarters, Wethersfield, Connecticut
December 2019
4 CCIA Annual Holiday Reception, Aqua Turf Club, Kay's Pier North, Plantsville.
* * * * * * * * * *
Training Calendar:
Training Courses:
2020 ACI Certification: Schedule and Application

January 2020: Dates: 9, 11, 16, and 18
March 2020: Dates: 12, 14, 19, and 21
May 2020: Dates: 7, 9, 14, and 16
November 2020: 5, 7, 12, 14

2019 ACI Certification: Schedule

ACI Grade I Field Technician: Application

January 2019 - Dates 17, 19, 24, 26 - CLASS IS FULL
March 2019 - Dates 21, 23, 28, 30 - CLASS IS FULL
May 2019 - Dates 2, 4, 9, 11 - CLASS IS FULL
November 2019 - Dates 7, 9, 14, 16 - CLASS IS FULL
* * * * * * * * * *

Read the The CONNCRETE Times, an electronic publication distributed by Dom DiCenzo, Executive Director, CT Concrete Promotion Council, to keep you informed about news, events, training and calendar dates of importance to our members. Questions, call or email Dom DiCenzo at 203 915-0279 or ctconcretepromotion@gmail.com.
To keep informed on all events, bookmark and frequently visit our calendar of events. Stay connected with social media!

* * * * * * * * * *
Links of Interest:
CRMCA Officers:
President
T.J. Oneglia, O&G Industries, Inc.
Vice President
Lauren Forgione, F & F Concrete Corporation
Secretary
Len Suzio, The L. Suzio Concrete Company, Inc.
Treasurer
Don Penepent, Tilcon Connecticut Inc.
Executive Director
Don Shubert, CCIA
CRMCA Directors:
Tony Sneka, McINNIS Cement
Sue Duffy, O&G Industries, Inc.
Len Suzio, The L. Suzio Concrete Company, Inc.
Scott Dicine, The Euclid Chemical Company
T.J. Oneglia, O&G Industries, Inc.
Seymour Adelman, Adelman Sand & Gravel, Inc.
Ric Suzio, The L. Suzio Concrete Company, Inc.
Mick Tarsi, Manafort Brothers, Inc.
Darryl Neopalitano, Lafarge Holcim
Lauren Forgione, The F&F Concrete Company
Donald Penepent, Tilcon Connecticut, Inc.
John Ellis, Lehigh Cement Co.
Contact the CRMCA
E-Mail
Phone: 860-529-6855 · Fax: 860- 563-0616
912 Silas Deane Highway · Wethersfield, CT 06109